Junior Farmers is a collaborative organization that has grown and developed from over 100 years of determination and ingenuity on the part of farmers across Ontario, beginning in 1914. JFAO serves as the governing body of Junior Farmers, maintaining the principles of integrity and cooperation amongst the many clubs across Ontario. JFAO also offers leadership clubs and opportunities to network through a variety of inter-club competitions, activities and exchanges to help its members grow as farmers and as individuals. JFAO provides the younger generation with a voice in the industry as well as in their communities so that they can one day be future leaders while maintaining a connection with our roots.
In order to provide the most optimal service to our clubs, JFAO has continued to change and adopt new programs to meet the needs and interests of its members. As a result, Junior Farmers clubs continue to be popular for both rural and urban demographics. Often Junior Farmer Improvement Associations and Junior Institutes banded together to form County Associations.
In The Beginning
Junior Farmers clubs in Ontario were formed long before JFAO came to be. In late February of 1914, 30 young farmers huddled in a classroom in Woodbridge, Ontario for the final class of their six week course to learn the "principles upon which everyday farm life are based". The class concluded with all present signing a constitution drawn up by the Department of Agriculture and thereby forming the first Junior Farmers' Improvement Association. The following year would see similar groups form in the counties of Durham, Peel, and Middlesex. As an organization dedicated to agricultural progress, the Junior Farmers' Improvement Association could not have been formed at a better time. Canada was experiencing food shortages and traditional farming styles could not meet the market's new demands. Realizing that a parent would more readily accept advice from their child than a government official from the city, the Minister of Agriculture hoped that Junior Farmers would succeed where everyone else failed.
With progress came girls' associations and "sewing circles" in Elgin County and Manitoulin Island. While these groups of boys and girls were first kept separate, years of communication and cooperation would see the gender gap dissolve for members of Junior Farmers.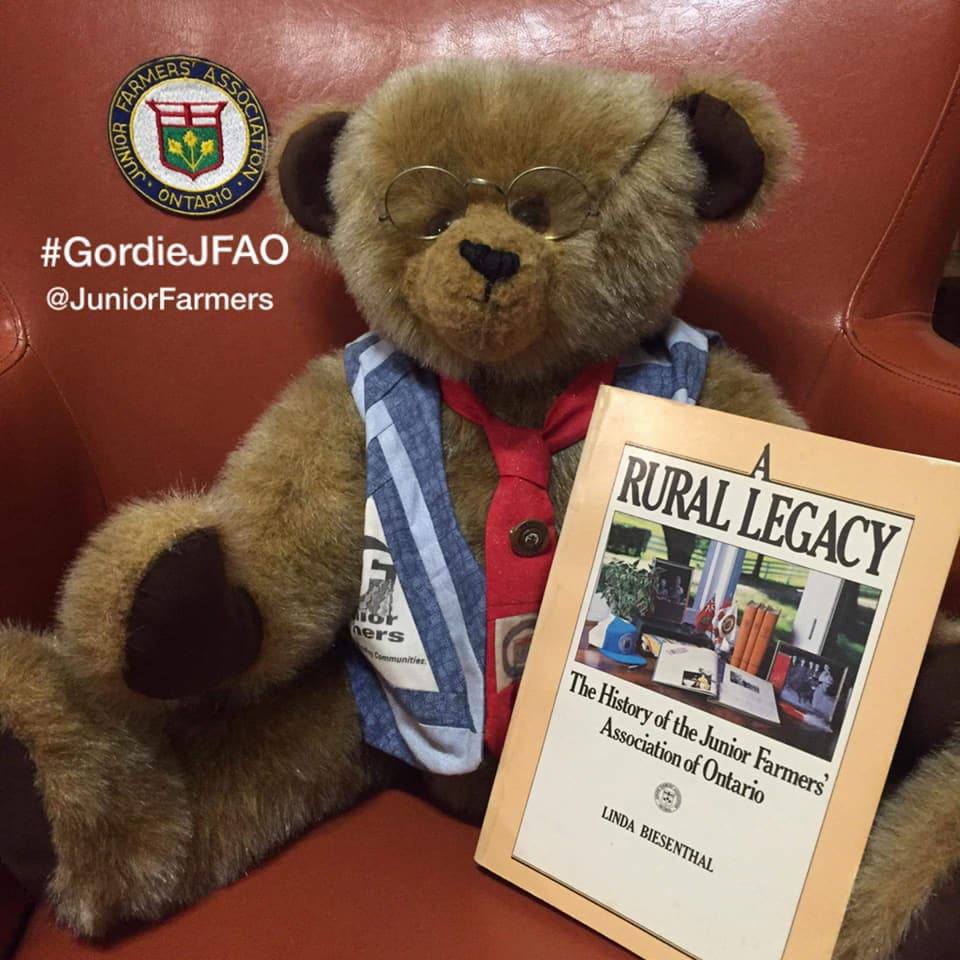 The Provincial Association
With the start of World War II the world was in disarray, even here on the home front; Junior Farmers' felt a need for better organization. In 1944 the Minister of Agriculture, the Honourable Thos. L. Kennedy, offered to pay travelling expenses for two delegates, one boy and one girl from each county and district where Junior Farmers was active, to attend an important meeting.
On April 4th of that year, a group of forty-eight young men and women gathered in an attic room at Queen's Park in Toronto, Ontario to discuss the future of Junior Farmers. After lengthy discussion, the group voted unanimously to form the Junior Farmers' Association of Ontario, which would consist of both males and females.
The fourteen provisional directors were: Bernard Valiquette, Arnprior; Ernest Miller, Perth; William Nightingale, Belleville; Charlie Lane, Oakwood; Gordon Orr, Maple; Charlotte McCullough, Georgetown; Raymond Jagelesvki, Walkerton; Lloyd Rouse, Beamsville; Warne Emmott, Brantford; Harry Gehrin, Delhi; Raymond Arbogast, Stratford; Harry McCracken, Longwood; Janet Munro, Embro; and Howard Laidlaw, Norval.
At a subsequent Director's Meeting, Gordon Orr was elected President, Howard Laidlaw, Vice-President, Warne Emmott and Charlotte McCullough, Executive Officers, and Mr. A. H. Martin, Assistant Director of the Agricultural Representatives Branch, became Secretary-Treasurer.