Ontario Century Farm Sign Project
CFS Form English (PDF, 211KB)
CFS Form English (Word, 248KB)
CFS Form French (Word, 248KB)
If looking for your local Provincial Director's contact information, please email info@jfao.on.ca with your County.
All the signs are now available in French and that there is a 225 sign.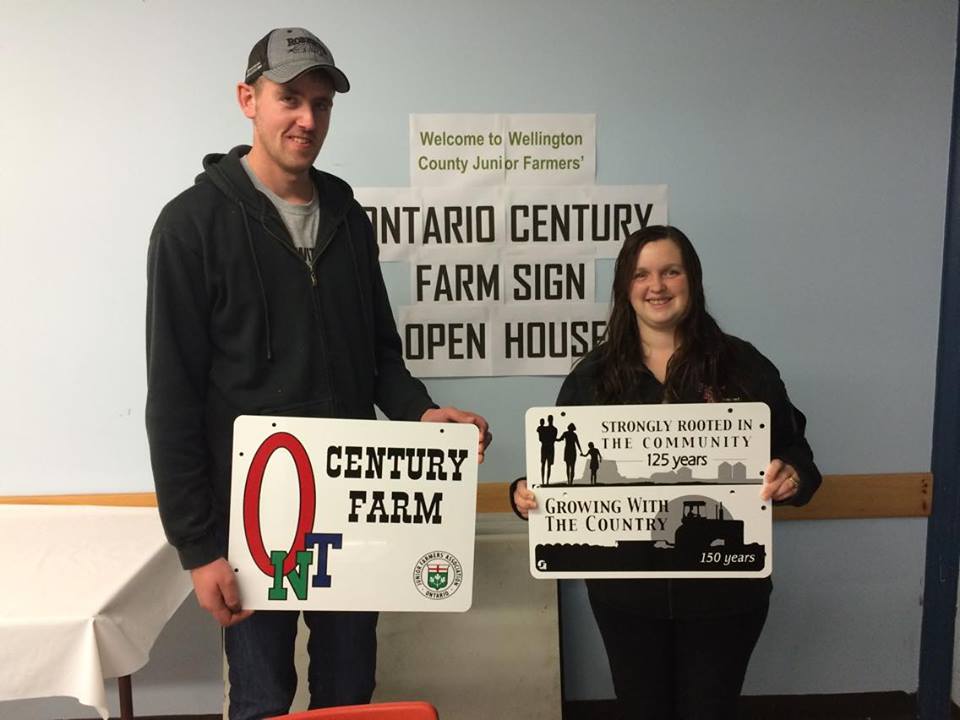 The Ontario Century Farm Sign (CFS) was initiated in 1967 as a Canadian Centennial project of the Junior Farmers' Association of Ontario (JFAO). The project continues today because of the popular demand for these centennial celebrant signs. The fee for each sign supports the cost of the program within JFAO.
The regulations governing designation of an Ontario Century Farm are as follows:
Direct descendants of the same family must have owned the farm for 100 consecutive years. An incorporated farm is eligible if it meets this regulation.
A family member must still be living on the farm, and it must be in active operation within the family as a farm.
Families wishing to have their farm designated as an Ontario Century Farm must submit the approved application, accompanied with a cheque made payable to "JFAO" to the JFAO head office in Guelph.
Copies of the land registry records must be submitted with the application OR the application must be approved by the JFAO Provincial Director for the area where the farm is located. Contact info is available through the office or online at www.jfao.on.ca/contactus. Documentation will NOT be returned.
Final decision regarding the eligibility of applications will be made by JFAO based on information provided in the application. Applications that provide insufficient or inadequate ownership data will be denied. All personal information provided will be kept confidential and used only by JFAO to verify and maintain the CFS program.
Information on the Century Farm Sign:
The 16″ x 19″ CFS is constructed of aluminum and is identically printed on both sides as pictured above. There are two holes on each side for hanging the sign from an appropriate standard (standards are not provided by JFAO). These signs should maintain their attractive condition for several years. Experience, however, has shown that signs not adequately secured or over-exposed to road salt may deteriorate more rapidly. Applying tape over the painted design is not recommended. JFAO does NOT guarantee the life of any sign.
The current cost per sign is $100.00 including shipping and handling. This price is subject to change without notice. Please allow 6-8 weeks for delivery and ensure you have provided all documentation required. Buyers are welcome to make arrangements to pick up their sign directly from the JFAO office in Guelph, but as this office is not staffed full-time this may not always be possible. In such cases verification must be mailed, e-mailed, or faxed before pick-up.
Add-On Signs
Many family farms are reaching milestones that exceed 100 years. To recognize these families, JFAO now offers 125, 150, 175 and 200 year add-on signs. These signs were custom designed by Junior Farmer member Becky Bouwmeester, and many other members creatively wrote the slogans. The add-on signs are offered in black and white, and are designed to hang under the Century Farm Sign.
To order an add-on sign (or four), check beside the appropriate sign on the application form. Add-on signs can be purchased for $50.00 each, shipping and handling included.
Have a question? Please contact us via our online form.