Ontario Young Farmers' Forum
The Ontario Young Farmers' Forum (OYFF) attracts some of the brightest young farmers from across the province. A two day forum is held in mid-late November, for those aged 18-40 and it is held in conjunction with the Ontario Federation of Agriculture (OFA) annual convention. Delegates have the opportunity to learn, connect and discuss the most pressing agricultural issues that are faced on a daily basis. No matter where you are from or what type of farming you do, you are welcome to take part in the opportunity to grow at OYFF. This event is open to all those 18-40, who are interested in or involved in agriculture, not only JFAO members.
Ontario Young Farmers Forum moves to a virtual program!
In light of ongoing health concerns related to COVID-19, JFAO will transition the Ontario Young Farmers Forum (OYFF) to a virtual discussion series for 2021. The virtual program will consist of a four-part speaker series during the month of November. A number of topics will be covered in these sessions and the final session will include a panel of young farmers from across Canada. Each session will include a presentation from a Canadian farmer!
Check out the FAQ's below.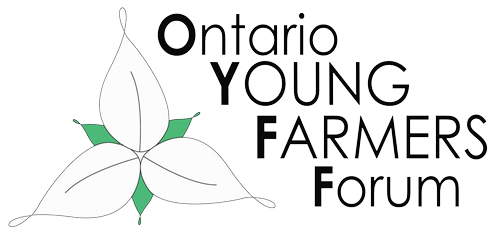 Read more about the 2021 OYFF programs and watch the video replays.
OYFF 2021 Virtual Programs
Farm Safety and Advocating for Agriculture
Session 1 - Thursday, November 4, 2021 at 7:00 pm

Soil Health For Farm Business Health 
Session 2 - Wednesday, November 10, 2021 at 7:00 pm

Farm Succession Planning With MNP
Session 3 - Monday, November 15, 2021 at 7:00 pm

Innovative Farmer Panel
Session 4 - Tuesday, November 23, 2021 at 7:00 pm
OYFF 2021 In-Person Programs
Eastern Farm Tour - Live Event
Session 5 - Saturday, November 27, 2021 at 10AM

Western Farm Tour - Live Event
Session 6 - Saturday, December 4, 2021 at 10:30AM
Frequently Asked Questions: OYFF Virtual Forums
Thank You To Our Sponsors of OYFF