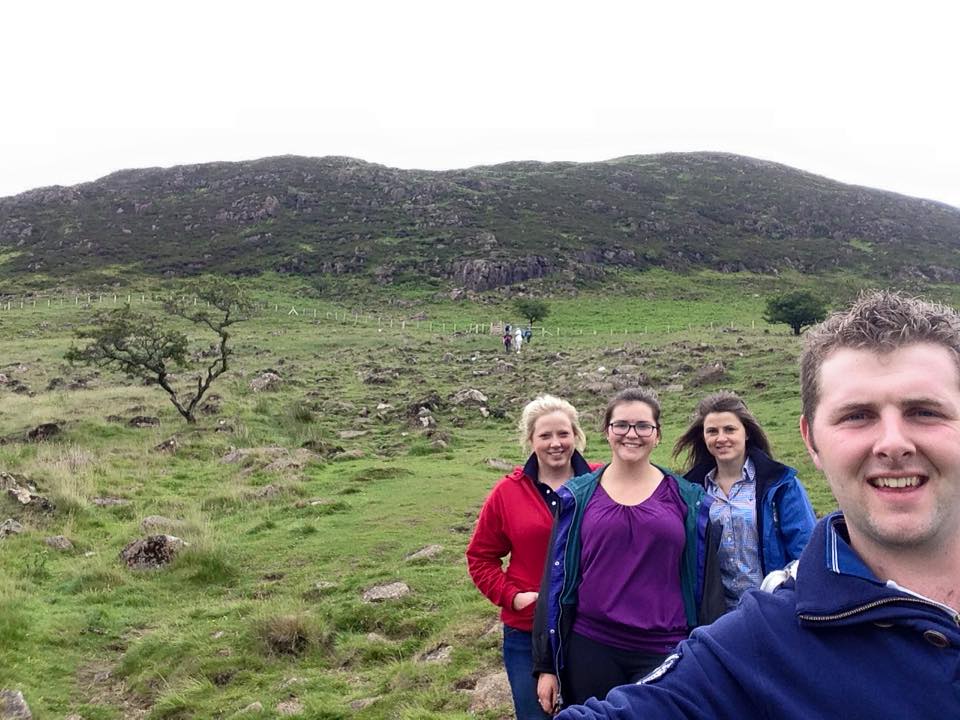 [vc_row][vc_column width="1/1″][vc_column_text]
[/vc_column_text][/vc_column][/vc_row][vc_row][vc_column][vc_column_text]My three weeks in Northern Ireland were great! I got to meet so many young farmers and see a lot of the country.
On July 5 I flew from Kirkwall to Belfast. Harry Thompson (2014 delegate to Canada) picked me up at the airport as he was my host for the first week. There were 6 other exchangees who I got to meet and spend some days with. My week with the Randalstown club was packed full: we toured Greenmount, the local agricultural college, went to a National Sheep Association event and the YFCU stockjudging finals. We had a day in Belfast, which included a sightseeing bus and visiting the Titanic museum. We also went to the Giant's Causeway and the Carrick-a-rede rope bridge. I even spent an evening helping the Thompsons with milking and got a couple tractor rides in. My last day spent in County Antrim was spent climbing Slemish Mountain, where St. Patrick kept sheep when he was a slave. It was quite the hike but was worth it as there was a beautiful view waiting for me at the top.
My second week was spent with the McCollums who are part of the City of Derry club. This week I got in several farm tours and some nice walks in country parks. We also went to a really big beach; luckily the water was warm enough for us to stick our feet in! We spent a day at the folk park, which depicted the story of Irish peoples' immigration to America. We also got a tour of Derry/Londonderry, the city near where I was staying. On the weekend I attended the Londonderry and Limavady Agricultural Show, where my hosts were all participating in one way or another. Their team even got second in the girls tug of war.
My third week was spent with a family near the east coast, where the parents were hosting me on behalf of the Young Farmer Ambassadors (an association for anyone who has completed a young farmers travel opportunity). Trevor makes pottery for a living and has a studio in his home, so my first couple days with them were spent making things! I also helped him and his daughter with a workshop at a summer camp. I also got some baking in, both traditional Irish treats as well as some cakes. We went to the beach a few times as well as got some hiking in. The views in Northern Ireland are great! I spent a day in Dublin as well which was really great. One day was spent touring all things St Patrick, the church where he is buried, the oldest church in Ireland, and a museum about St Patrick and how he brought Christianity to Ireland. On the weekend I went to a young farmers barbeque where I was able to catch up with the other exchangees as well as young farmers that I had met during my previous weeks. On July 27 I headed for England via Belfast City Airport.
My time in Northern Ireland was fantastic, and I was really happy I got to see a glimpse of the Republic of Ireland as well! YFCU treated me very well and everyone I met made me feel so welcome. Now it is time for my last month which I will be spending in England!
Victoria Kyle is a University of Guelph Junior Farmer. You can follow her adventures at @victoriakyle131.
[/vc_column_text][/vc_column][/vc_row]